G Suite Meet use has increased dramatically due to coronavirus along with the rest of Google's G Suite portfolio as it offers several significant advantages over the alternatives:
Meet, and all of G Suite, runs on Google's secure, resilient global infrastructure, built-in protection, and global network that Google uses to secure your information and safeguard your privacy.
Only meeting creators and calendar owners can mute or remove other participants.
Only meeting creators and calendar owners can approve requests to join made by external participants.
Meeting participants can't rejoin nicknamed meetings once the final participant has left.
When Google Meet is on, users in your organization can start a meeting from a browser, a mobile phone, or a Google Calendar event that includes a video meeting link. Google Meet is now being rolled out in Gmail, which means you can start and join meetings right from your inbox, making it even easier to stay connected.
According to Javier Soltero, Google's General Manager & VP of G Suite, the company surpassed a new milestone of more than 2 million new users connecting on Google Meet every day. Earlier this year, G Suite also hit another important milestone, surpassing six million paying businesses and organizations.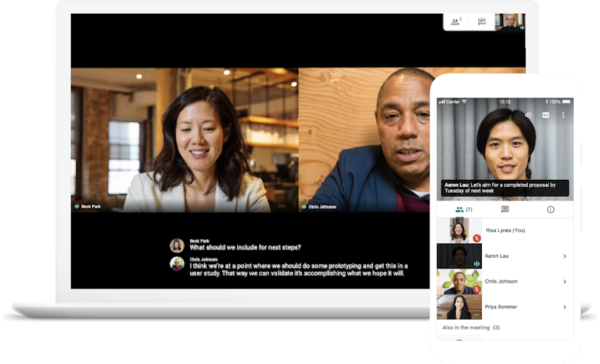 When you start a meeting, a new window pops up with a secure, unique meet.google.com URL. Choosing to join a meeting lets you enter a meeting code (provided by the organizer) or use a meeting nickname to quickly get everyone into an ad hoc meeting.
Google Meet video-conferencing is available at no cost to all G Suite and G Suite for Education customers, Meet advanced capabilities are also available for free until September 30, 2020 to ensure businesses, organizations, institutions, and educators continue to be supported during this challenging time.
From Gmail:
In the sidebar, click Start a meeting.
Click Join now for a video meeting, or click Join and use a phone for audio for an audio-only meeting.
From Calendar:
Click Create.
Add your event details and guests.
Click Add rooms, location, or conferencing.
Click Save.